We are about to set off for the snowy wilds of London/Dashwood, but I wanted to post before I left since I will be gone for a few days and won't have camera access. I imagine I will able to access the internet, though, so comment/email/post away!

I filled another spindlefull of the Wensleydale, and have washed and hung the singles. I have a bit, maybe a third left of the original 50g: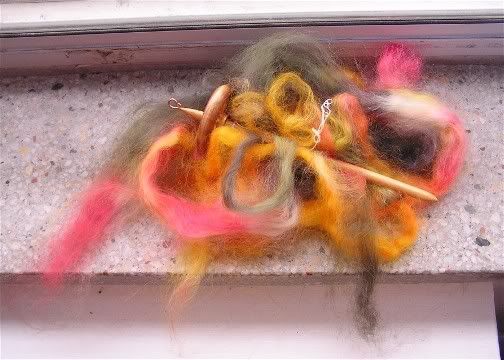 I imagine I will spin it next week. I am very excited about the singles this is producing! I went back to Romni to get another sliver, but they were sold out of this colourway. The alarmist behind the counter told us how it just flies out the door, and that he was surprised that there was ANY left, and that if there were any other colourways I wanted, I had better jump on them.

Ahem.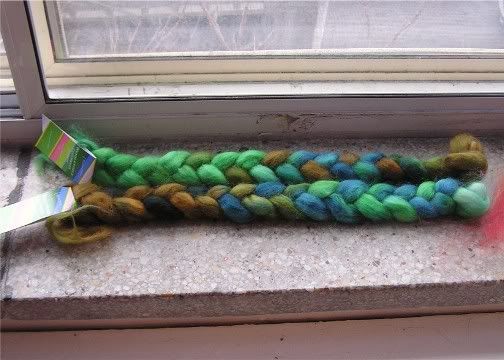 I am such a pansy. More Fleece Artist Wensleydale-Teeswater sliver. This time I got two in the sameish colourway. Fleece Artist is a bit easygoing on colour ways, so this is as close as they come. 100g should be enough for socks! (I know, obsessed)

I do still knit! I knocked out a pair of tiny mittens the other day to keep some wee hands warm. These are made from the same ball of yarn as the larger green mittens, which makes for some great mitten value! I only have a teensy ball left. I was getting a little antsy towards the end.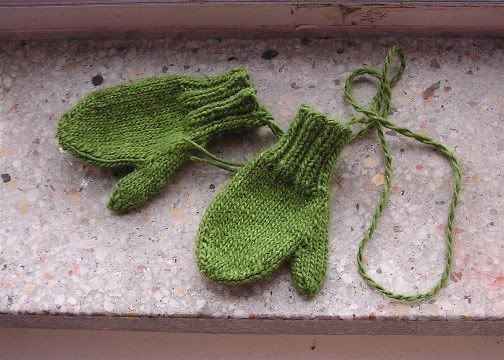 And, since we had the first sticky snowfall (ie: it hung around for more then five minutes) the other day (it's all gone now, but outdoors is still pretty chilly) I started a hat.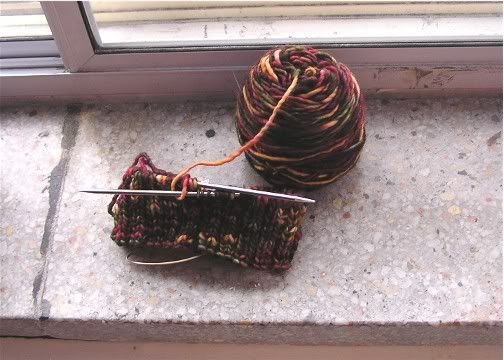 Hats are my nemesis, so we shall see what interesting problems crop up during the course of this very unassuming Manos cap.

That's all for me, keep warm everybody!