While visiting my old haunt in London, I came across a new yarn by Koigu: Fancy Merino. It is a nice soft boucle with the handpainted colouring of koigu, and it is very reasonably priced.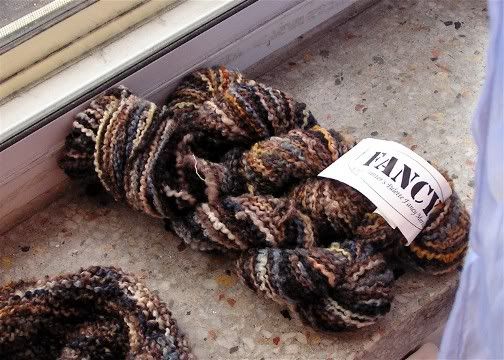 I bought a scarf kit which contained 150g (approx. 300 yards) of Fancy. The kit suggested a wide curling stockinette scarf knit on the short edge. Since I tire easily of scarves, I decided to do a garter stitch scarf knit on the long edge. I decided a shorter scarf was in order, with a nice long fringe, so I checked my gauge and cast on 150 sts. It was a really quick knit!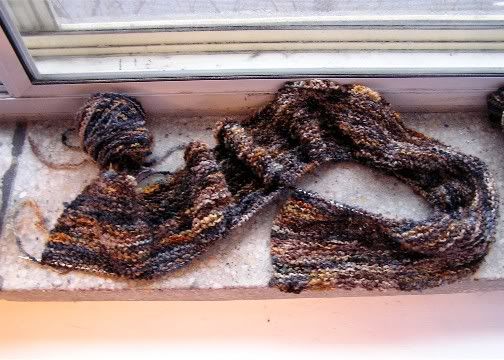 Unfortunately, I did so much knitting that day (I finished the socks of doom!) that a consequence of continental knitting reared its head: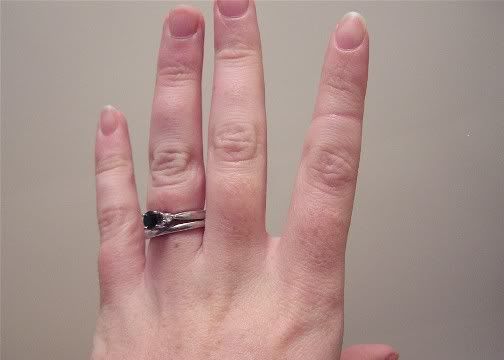 See my pointer finger? That is where I wrap the yarn to keep it tensioned. Between the nylon in the sock yarn and the binder of the boucle, I had a sore finger! I put the scarf away for a few days, and pulled it out to finish it Friday night. I didn't want it to be too long, just enough to tuck in a coat, and I will add a nice thick fringe. I have quite a bit of yarn left... even after the fringe I will have half the kit leftover. The colours are really quite lovely, the orange just pops out while you are knitting. The boucle, as always, takes a little attention, but for the most part it flew along.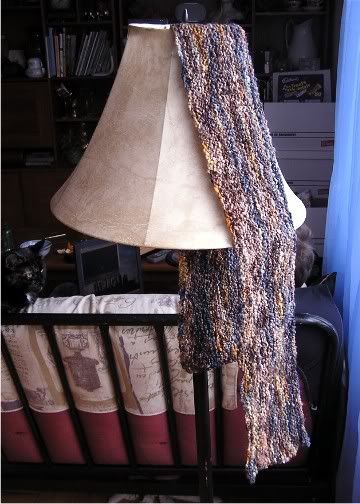 It is a very cushy garter stitch, so I think I will block it long. It ended up about 50 inches long before fringe. I don't like a wide scarf.

I did some plying and spinning as well, but I will save those for another day. Still working through the backlog!

All that is left on the Christmas list is a few mittens, and small ones at that.